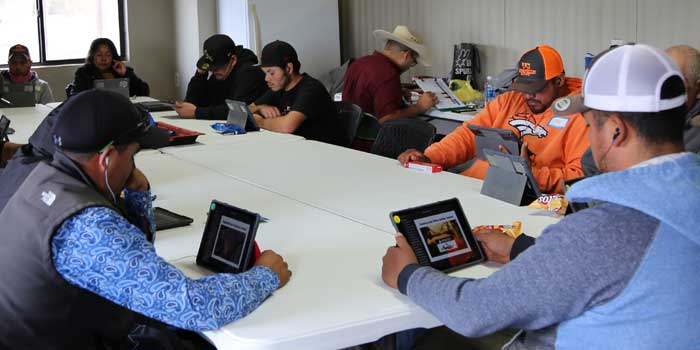 Providing information, technology and sound science to and regarding the dairy industry in New Mexico.
Dairy Worker Health and Well-Being Training
Including COVID-19 Awareness and Prevention on Dairy Farms: Training Resources for Producers and Herdsmen
Having received USDA-NIFA funding, UT School of Public Health – San Antonio Campus and NMSU Dairy Extension collaborated to develop a multi-language training program for dairy owners/mangers as well as for dairy workers. The dairy worker program is offered in English, Spanish and K'iche, and it addresses a wealth of worker health related issues including but not limited to COVID-19. All training resources are available at: UT Health Dairy Farm Safety.
COVID-19 Vaccine:
Training Resources for Dairy Farm Workers:
Training Resources for Producers & Herdsmen:
Health Training Brochure:
New Mexico Dairy Facts & Stats
Special Programs
Follow Us
Questions?
Importance of the New Mexico Dairy Industry
The State of the Dairy Industry in New Mexico: we made it through 2020, where next?
NM Dairy an economic force. The dairy industry in New Mexico, much like the dairy industry in the U.S. is undergoing some rapid changes. Continued industry consolidation remains the key metric, driven primarily by economies of scale as margins in the industry remain raiser thin. The COVID-19 situation during 2020 forced New Mexico dairy initially in a tailspin as the industry was forced to adjust to a multiple of severe supply chain interruptions from school closures to restaurant closures towards a drastic change towards in-store purchasing and at home cooking. The resiliency of the industry manifested itself with an amazing jibe from the normal supply chain structure, to one nobody would have ever been able to forecast. There are still some storage hangovers such as a lingering butter stockpile to work through, but hopefully recently announced additional USDA Food Box programs for 2021will help absorb some of that. NM Dairy remains the number one driver of agricultural cash receipts totaling $1.4B or almost 45% of all Ag cash receipts, resulting in a $4.5B total economic impact, providing roughly 5,500 direct and 16,000 indirect jobs to the economy.
NM Dairy an environmental solution. The dairy industry announced in 2020 its commitment to be carbon neutral or Net Zero by 2050. A closer observation of what that means for New Mexico dairies resulted in some amazing findings. The New Mexico total herd size has remained constant over the last 15 years. At the same time producers have managed to improve production with 33% (from 62 to 82 lbs/hd/d). This means that the industry can make a valid argument that methane emissions per unit of milk have significantly declined. Capper and Cady (2020) reported that between 2007-2017 the US dairy industry improved production with 25% and GHG emissions only increased 1%. Initial modelling efforts for New Mexico demonstrate a decrease in GHG emission intensity of 8% since 2000 and 12% since 1990 per unit of milk produced.
NM Dairy and green or resilient technologies. The above reduction in GHG is the result of applying the great many tools and technologies dairy producers are continuing to utilize to lessen the footprint of a dairy cow. It bears reminding though, that dairy cows naturally produce GHG as a result of what cows biologically are meant to do: convert humanly undigestible, unusable and only for ruminants re-usable fibrous feed- and by-products into valuable energy and protein. Examples of these technologies are: continued improvement towards a more efficient cow and more efficient ruminal bacteria; more precise nutrition advice to tailor the ration exactly to the needs of the cow (much like human athletes); modification of the bacterial fauna in the rumen to cater to bacteria which either produce less GHG, or those that are more efficient capturing the energy and converting it to usable products; handling dairy manure in ways that lessens GHG emissions to the environment; using technologies to capture manure energy for renewable energy; using the remaining cow manure as an organic additive to the soil profile to capture and sequester carbon in the soil profile; and many other available green farming practices.
Dairy farmers: the original environmental stewards. It is important to remember that dairy farmers are the original recyclers and environmental stewards no matter the size of the farm: all that changes is the scale, not the principles. New Mexico dairy farmers are committed to continuing to demonstrate they are a part of an environmental solution, despite the misleading and fake headlines. How's that for a conversation changer?
Dairy Impacts in NM and US

| | | |
| --- | --- | --- |
| The Economic Impact of Dairy Products | NM | U.S. |
| Total economic impact of dairy produced and sold in NM | $4.45 billion | $198.9 billion |
| Contribution to GDP | = 4.2% of NM GDP ($105B) | = 1.0% of U.S. GDP ($21.43T) |
| Dairy Receipts – sales of dairy products | $1.4 billion | |
| Dairy receipts as a % of NM total farm receipts | 43.4% (1st in NM) | |
| Total employment generation in NM | 5,437 direct jobs - ($194 million paid in direct wages) | 1.0 Million direct jobs - ($37.6 billion paid in direct wages) |
| Indirect jobs supported by dairy industry | 16,224 indirect jobs | 2.1 Million indirect jobs |
| Cheese production | 7.4% | 4th in U.S. |
| Number of dairy farms | 127 farms (2020) | Down 32% from 2004 (186 farms) |
| Total number of milking cows | 329,000 (2019) | Down 10% from 2006 (362,000) |
| Number of cows per dairy | 2,329 (2019) | 1st in the U.S. |
| Milk produced | 8,187 M lbs (2019) | 218,382 M lbs (2019) |
| Contribution to national milk production | 3.75% | 9th in the U.S. |
| Milk productivity | 25,113 lbs/cow | 3rd in the U.S. |
Updated January 2021