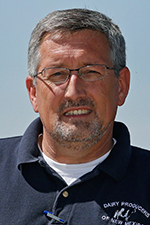 Dr. Robert Hagevoort, a native of The Netherlands, is an Associate Professor and Extension Dairy Specialist in the Extension Animal Sciences and Natural Resources Department of College of Agricultural in the College of Consumer and Environmental Sciences at New Mexico State University.
He earned his bachelor's degree in Tropical Animal Production from the College for Tropical Agriculture (1987) in Deventer, The Netherlands. He received a M.S. degree in Range Nutrition (1989), and a Ph.D. in Animal Nutrition (1993) both from Texas A&M University.
Prior to joining New Mexico State University as an Extension Dairy Specialist in November of 2005, Dr. Hagevoort served for over 10 years as an independent dairy management consultant primarily in California's southern and central Valley. As a an Extension Specialist, he has been working closely with the Dairy Industry in New Mexico and across the Western US regarding many regulatory and environmental issues, and initiated an effort to rebuild a dairy program at NMSU through the formation of the U.S. Dairy Education & Training Consortium (formerly known as the Southern Great Plains Dairy Consortium).
A key component of his current research & extension program is the development and implementation of a comprehensive dairy workforce training & safety program.
In March of 2011, Dr. Hagevoort was the first recipient of the Topliff Dairy Chair, a position charged with promoting the visibility of the dairy industry through research, extension and education and which serves as a policy center for regulatory matters.
Send emails to: dairydoc@nmsu.edu