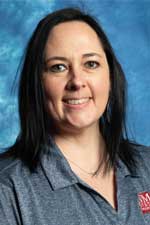 Mrs. Shelly Morris, a Wyoming native, attended college at Eastern Wyoming College in Torrington, WY in 1993.
Morris worked as a Veterinary Technician in Wyoming before moving to Texico, NM in 2001 where she resides with her family.
She has been working as the Dairy Extension program Coordinator since August of 2013, when she began working at New Mexico State University.
Morris assists Dr. Robert Hagevoort with the dairy extension program at NMSU. She also helps coordinate the US Dairy Education & Training Consortium held in Clovis, NM each year.